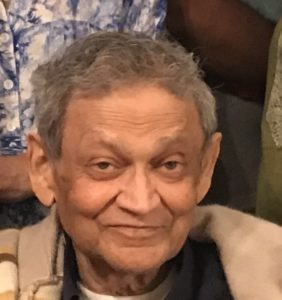 Dr. Kamlesh Gopal Gupta, 72, of Ottawa, Ontario, passed away peacefully on Tuesday, September 12th, 2017 at home and surrounded by family.
Kamlesh was born in Nagpur, India to Late Professor Gopal Gupta, a devoted practitioner of Gandhian principles, and Late Sheelawati Gupta, a social worker and devoted mother. He will be fondly remembered by family, friends, and students as a loving husband, father, grandfather, and teacher, and for his sense of humor and sharp wit. Kamlesh was multilingual and actively involved in providing translations and interpretations from and to several Indian languages for Canadians, immigrants, refugees, and people from all walks of life from around the world. Besides his expertise in engineering and other professions that he chose to master, he had a passion for teaching, drama and community service. Above all, he loved spending time with his family and friends; his eyes would beam with delight when his grandchildren were around, even when he was sick.
Kamlesh is survived by his wife of 47 years, Aruna, his children Deepak and Punita, and Nidhi and Susheel, his three grandchildren, Ravya, Aaryan, and Siyona, his siblings  Sadhna, Vijiya, Siddesh, Muktesh and Manisha, and a large extended family of close friends and relatives.
Funeral services will be held from 10 am to 11 am on Sunday, September 17th at Cole Funeral Services (Pinecrest) located at 2500 Baseline Road, Ottawa, Ontario K2C 3H9. Tributes can be left at https://colefuneralservices.com/online-tributes.
To celebrate Kamlesh's illustrious life, a religious service/shantipath will be held from 4pm to 6pm on Sunday, September 17th, at the Hindu Temple of Ottawa–Carleton, 4835 Bank Street, Ottawa, Ontario K1X 1G6.
Note: Messages of condolences and shradhanjali to Kamlesh and his family can be sent to kamleshgupta@hotmail.com. In lieu of flowers, donations can be provided to the Critical Care Unit (CCU) of the Ottawa Hospital.